Fog Penetration System | Smart Vision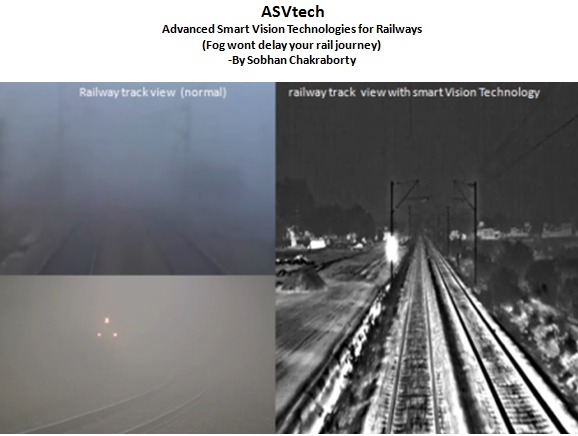 The ASVtech will be an ultimate solution and will reduce the chance for railway accidents significantly. Coming with a vision range of up to 1.5 Km along with the following features:-
Software for object detection on railway tracks.
Long Distance Night Vision.

Protection from High Light Inhibition .

Fog/ Mist/ Dust Penetration.

Track condition pre – alert (subjected to cost).

Alarms if any object appears in the pre-determined danger range of the train.

24*7 operation Continuous live video feed available directly from the locomotive to the ground station (Inside cabin view and monitoring options are also available).

Solution for sharp turns and tunnel view. The device comes with a joystick controller (Manually available) for continuous views on sharp turning. [Can be converted into autonomous control with self focus mechanism).

With IP67 weather protection casing for continuous service.

Integrated LIDAR application with the software.

Device average life 7 years, with 2 years warranty followed by 5 years of CAMC (Comprehensive Annual Maintenance Contract ).
*** The product can be customized and used in any Vehicle (Trains | Cars | cruise | Ships)
Advanced USV System for Water Quality Monitoring, Surveillance, Waste Extraction & protection from Oil Spill
Application:-
• Water Waste Management
• Hydrographic surveys & water quality monitoring
• Coastal surveillance
• Oil spill protection
*** Contact us for Customization***
3 UAV Lab setup | Advance lab set-up
***